It's been too long since I've updated this blog series, but hopefully today's post will be worth the wait! I know the books certainly are.
This series is about showcasing shorter works. I love a good epic fantasy, but sometimes I think the novella is a seriously underappreciated form!
In my last post, I talked about YA Fantasy Novellas. In this edition, I want to talk about fable-classical-style upper MG and YA books with spectacular illustrations. It's coming up to Christmas, and I know lots of my reader friends are looking for books that make good gifts. Look no further!
You'll also have your chance to win a beautiful hardback copy of Jackie Morris' The Wild Swans. And don't forget to check out my Top 2016 Spring/Summer Picks to win an ARC of TRUTHWITCH.
GoodReads Summary:
This very beautiful and lyrical extended version of the fairy tale 'The Wild Swans' by Hans Christian Andersen is the much anticipated companion to East of the Sun, West of the Moon. With strong characterization of the heroine and also with more rounded characterisation of the wicked stepmother than in the original version, and with delicate watercolor paintings throughout, this is both a wonderful story and delightful gift. Beautifully presented in a jacketed edition with foiled title.
My Review:
Jackie Morris is my all-time favourite illustrator. High praise, because I'm very picky about my art! I own all of her picture books for younger children, as well as her illustrated poetry editons and I am CONSTANTLY encouraging my clients to buy them. When I came across this little gem in the publisher's catalogue, I knew I had to have it. But, I was worried. The other books I owed by Jackie were all for very young children with limited amounts of text.
This little book totally blew my expectations out of the water. Jackie Morris is as talented a storyteller as she is writer. This book is a perfect winter fairytale – a skilfully executed retelling complimented by STUNNING illustrations. Perfect for children over 10 as well as Young Adults and Adults.
Interior Illustrations:
Book Details:
Author/Illustrator: Jackie Morris
(www.jackiemorris.co.uk / JackieMorrisArt)
Publisher: Frances Lincoln Children's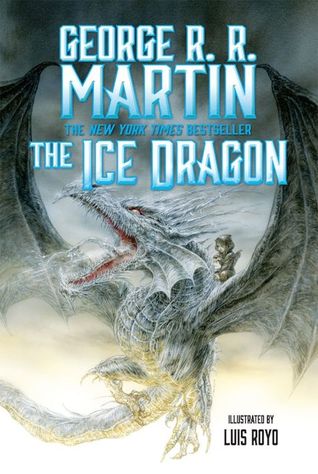 GoodReads Summary:
In the world of A Song of Ice and Fire the ice dragon was a creature of legend and fear, for no man had ever tamed one. When it flew overhead, it left in its wake desolate cold and frozen land. But Adara was not afraid. For Adara was a winter child, born during the worst freeze that anyone, even the Old Ones, could remember.
Adara could not remember the first time she had seen the ice dragon. It seemed that it had always been in her life, glimpsed from afar as she played in the frigid snow long after the other children had fled the cold. In her fourth year she touched it, and in her fifth year she rode upon its broad, chilled back for the first time. Then, in her seventh year, on a calm summer day, fiery dragons from the North swooped down upon the peaceful farm that was Adara's home. And only a winter child—and the ice dragon who loved her—could save her world from utter destruction.
My Review:
I was enchanted by this book from the moment I flipped open the cover. Luis Royo's blue and yellow tone illustrations are stunning and give the book instant ambiance. The writing doesn't have the same biting snark as Game of Thrones, but there is a kind of classic-Martian bittersweet quality to the narrative. The world is really vividly depicted and I loved the creatures he introduced — especially the ice lizards! All of Royo's illustratons perfectly compliment the story. Definitely recomend this as a gift for Children or Adults from age 10+.
Interior Illustration Examples:
Book Details:
Author: George R.R. Martin
(www.georgerrmartin.com / GRRMspeaking)
Illustrator: Luis Royo
Publisher: Tor Teen